Shape Editor
The Shape Editor enables you to create Shape Scripts. To access the Shape Editor, follow the steps below:
1.

Select the

Settings | UML

menu option; the

UML Types

dialog displays, defaulted to the Stereotypes tab.
2.

Type a name in the

Stereotype

field, or click on an the required stereotype in the list.
3.

From the

Override Appearance

panel, select the

Shape Script

radio button.
4.

Click on the

Assign

button. The

Shape Editor

dialog displays.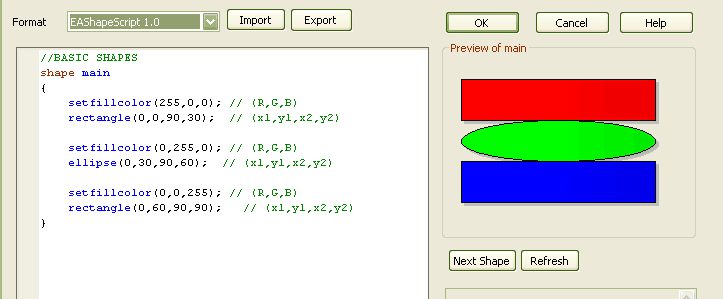 | | |
| --- | --- |
| Control | Description |
| Format | Select the ShapeScript version. |
| Import | Import a shape script from a text file. |
| Export | Export a shape script to a text file. |
| OK | Exit out of the Shape Editor, don't forget to save your script from the Stereotypes tab. See Getting Started |
| Next Shape | Rotate though the multiple shape definitions. |
| Refresh | Parses your script and displays the result in the Preview window. |
See Also