The Model Wizard is available on creating a new project. Once you have created a project, you can also access the Model Wizard from the Project Browser window. Right-click on a root node and select the Add Model using Wizard menu option.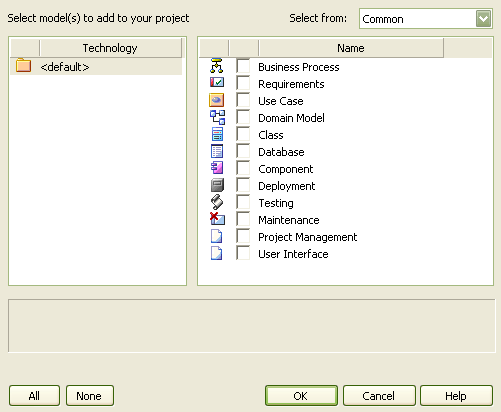 Field/Button

Description

Select From

Click on the drop-down arrow and select the model category from which to select the model type to create.

Technology

If you have advanced Add-Ins and MDG Technologies, this panel lists them. Select the appropriate technology to list the associated templates in the Name panel.

To list the standard Enterprise Architect model templates, select <default>.

All

Select all of the models.

None

Clear all models selected.

OK

Click on this button to create the Project Tree for your project.

Cancel

Click on this button for a blank project tree.

Help

Displays this help topic.
See Also