A Transition defines the logical movement from one State to another, in a State Machine diagram. The Transition can be controlled through the following connector Properties dialog: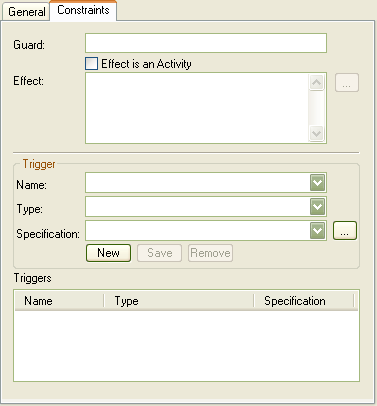 | | |
| --- | --- |
| Field/Button | Description |
| Guard | An expression that is evaluated after an Event is dispatched, but before the corresponding Transition is triggered. If the guard is true at that time, the Transition is enabled; otherwise, it is disabled. |
| Effect is an Activity | Specifies that the effect is an activity. |
| Effect | Specifies an optional activity to be performed during the Transition. |
| Trigger | |
| Name | The name of the trigger. |
| Type | The type of trigger: Call, Change, Signal or Time. |
| Specification | Specifies the event instigating the Transition. |
| New | Creates a new trigger. |
| Save | Saves the current trigger. |
| Remove | Removes the selected trigger from the list. |
| Triggers | Lists the current triggers for the Transition. |
Note: Fork and Join segments can have neither triggers nor guards.
Toolbar Icon

OMG UML Specification
The OMG UML specification (UML Superstructure Specification, v2.0, p. 17) states:
"A relationship between two states indicating that an object in the first state will perform certain specified actions and enter the second state when a specified event occurs and specified conditions are satisfied. On such a change of state, the transition is said to fire."