Several additional options are available to you when pasting Composite elements from one diagram to another.
When you drag a Composite element from the Project Browser window onto the current diagram with [Ctrl] held down, Enterprise Architect prompts you to select the type of paste action to carry out with the Composite element.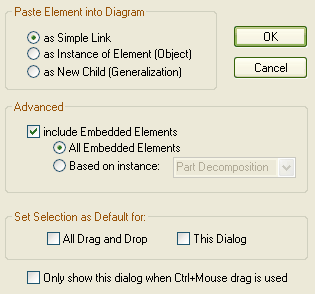 Two advanced options are available for pasting Composite elements; these require the include Embedded Elements checkbox to be selected:
1.

The

All Embedded Elements

option, which pastes all of the Composite element's embedded elements.
2.

The

Based on instance

option, which pastes only the elements contained in a specific instance of the Composite element. Click on the drop-down arrow and select the appropriate instance.