The Require tab of the element Properties dialog is shown below. Use this page to create requirements that this element is designed to meet. Requirements are of two types: internal requirements (responsibilities) and external requirements (system requirements). Enterprise Architect shows both types, but you can only edit the internal type from this tab.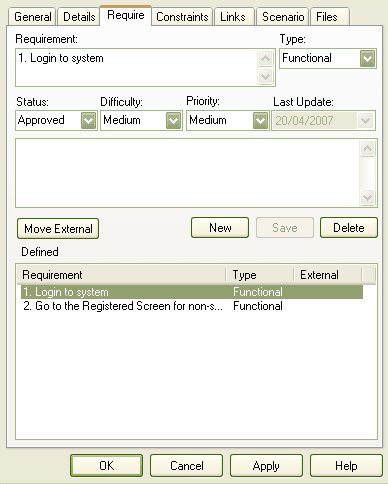 Internal requirements form the functional requirements of the system to be built. The meaning of the requirement can vary depending on which element is the host; for example, a business process requirement might mean something different to a Use Case requirement, which again might mean something different to a Class requirement. Use these as best suit your needs.
Use the Specify Feature Visibility function to show the requirements for an element on the diagram directly (it is also possible to show inherited requirements in this way).
Note: External requirements are those linked to this element using a Realization link.
| | |
| --- | --- |
| Control | Description |
| Requirement | Name and high level detail of requirement. |
| Type | For example, Functional or Non-functional. |
| Status | Current status of requirement. |
| Difficulty | Complexity of implementing current requirement. |
| Priority | How urgent the requirement is. |
| Last update | Date of last requirement update. |
| Notes | Details of requirement. |
| | Click on this button to make an internal responsibility into an external requirement. |
| New | Click on this button to create a new requirement. |
| Save | Click on this button to save changes to requirements. |
| Delete | Click on this button to delete a selected requirement. |
| Defined | Lists the defined requirements associated with this element. |
See Also