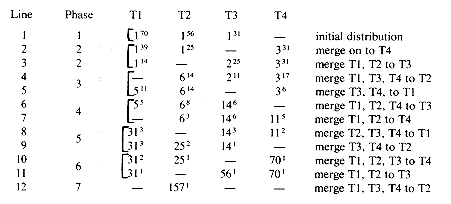 i.e., each phase consists of a 3-way merge followed by a two-way merge and in each phase almost all the initial runs are processed.
a) Show that the total number of passes made to sort 157 runs is 6-62/157.
b) Using an initial distribution from Table 8.16 show that Fibonacci merge on 4 tapes makes 6-59/193 passes when the number of runs is 193.
The distribution required for the process discussed above corresponds to the cascade numbers which are obtained as below for a k-way merge: Each phase (except the last) in a k-way cascade merge consists of a k-way merge followed by a k - 1 way merge followed by a k - 2 way merge . . . a 2-way merge. The last phase consists of only a k-way merge. The table below gives the cascade numbers corresponding to a k-way merge. Each row represents a starting configuration for a merge phase. If at the start of a phase we have the distribution n1, n2, ..., nk where ni > ni+ 1, 1
i < k, then at the start of the previous phase we need

runs on the k input tapes respectively.

Initial Distribution for a k-way Cascade Merge
It can be shown that for a 4-way merge Cascade merge results in more passes over the data than a 4-way Fibonacci merge.
7. a) Generate the first 10 rows of the initial distribution table for a 5-way Cascade merge using 6 tapes (see exercise 6).

b) serve that 671 runs corresponds to a perfect 5-way Cascade distribution. How many passes are made in sorting the data using a 5-way Cascade merge?

c) How many passes are made by a 5-way Fibonacci merge starting with 497 runs and the distribution 120, 116, 108, 92, 61?
The number of passes is almost the same even though Cascade merge started with 35% more runs! In general, for
6 tapes Cascade merge makes fewer passes over the data than does Fibonacci merge.

8. List the runs output by algorithm RUNS using the following input file and k = 4.

100,50, 18,60,2,70,30, 16,20, 19,99,55,20

9. For the example of Table 8.14 compute the total rewind time. Compare this with the rewind time needed by algorthm M2.

Go to Chapter 9 Back to Table of Contents