The Edit menu shown below provides a range of functions, which apply to diagram elements for the currently open diagram.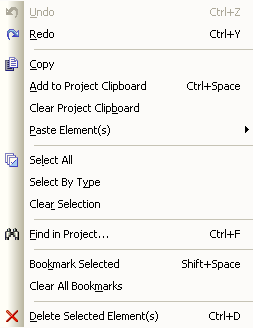 The Paste Elements Sub-Menu
Paste what is in the buffer as either a new element or as a link to the element.
Note: You can paste images from the Enterprise Architect Clipboard or the MS Windows clipboard. The Enterprise Architect clipboard takes precedence, so you must clear that clipboard before you can paste from the MS Windows clipboard.
See Also